Nickel Alloy Round Bar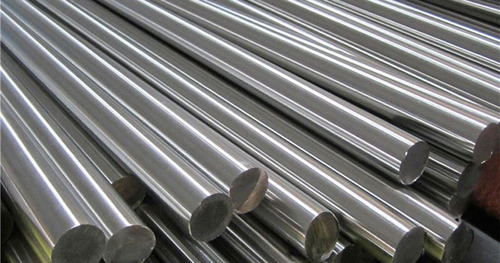 Nickel Alloy Round Bar
Price And Quantity
Product Specifications
Stainless Steel

Industrial Grade
Polished

For Industrial Use
Product Description
We take privilege to introduce ourselves as a primemanufacturer, exporters and suppliers various quality of Stainless Steeland Carbon Steel Pipe Fittings, Flanges, Fasteners, nickel alloys and specialgrades Round bars suitable for various applications. We are in this field fornearly a decade rendering our services to many public and private sectorcompanies of your repute.
BUILDING TRUSTSINCE 1977
ISO 9001:2015
ISO 14001:2015
ISO 18001:2007
PED CERTIFIED COMPANY.
Our product/supply Ranges as below:
Specialistin: Special Alloys & Nickel Alloys Such as Titanium Grade2 / Grade 5, Stainless Steel 440B/C, Monel 400 /K-500,Hastelloy C276 / C22 / B2, Inconel 600 / 625 / 700 / 718 / 800 / 900 / 925, Super Duplex Steel 32750(F53) / 32760 (F55), Ferillium 255, Duplex Steel 329/31803/2205, 15-5PH,17-4PH,Stainless Steel 400 Series 422/440C), Nitronic-50(XM-19) / Nitronic-60,Nimonic, SMO 254, 904L.
PIPES :- SEAMLESS PIPES to16 WELDED PIPES 1/2 to 48 ASTM A 312 TP304, 304L, 310, 316, 316L, 321,347 ASTM A 106 GR. A,B & C, ASTM A 53 ASTM A 333 GR.1, 3, 4, 6, 7, 8,9, 10, 11 ASTM A 335 GR. P1, P2, P5, P7, P9, P11, P12, P22, P91 Nickel, MONEL, INCONEL, TITANIUM, HASTELLOY, 904L BRASS, COPPER, CUPRO NICKEL 90/10&70/30 ALUMINIUM BRASS, ADMIRALLY BRASS, PIPE TUBES, & SHEETS
PLATES/SHEETS:-PLATES 1MM TO 200MMTHICKNESS (CR & HR) ASTM A 240 GR. 304, 304L, 310S, 316, 316L, 321, 347,348 ASTM A 387 CL1 GR.2, 5, 7, 9, 11, 12, 21, 22 ASTM A 537 CL1, CL2 ASTMA 515 GR. 55, 60, 65, 70 , ASTM A 516 GR. 55, 60, 65, 70 NICKEL, MONEL, INCONEL,TITANIUM, HASTELLOY, 904L
*We are prime importers of SSSheets, Plates and coils from mills like ThyssenKrupp, Acerinox, Columbus, Outokumpu, USCO, etc From 0.4mm to 12mm CR and HR Grade304, 304l, 316 and 316l.
ROUND BARS :-ASTM A 479 GR. 304,304L, 310, 316, 316L, 321, 347, 348 IS 2062 GR.A, B, & C , ASTM A105, LF2 ASTM A 182 F 11, F22, F5, F9 BS 970 EN-8, EN-9, EN-19, EN-24,EN-30, EN-31, EN-36, EN-45, EN-47 NICKEL, MONEL, INCONEL, TITANIUM, HASTELLOY,
OTHER SPECIAL GRADE :-TITANIUM GRADE 2/ GRADE 5, DUPLEX STEEL F51 (2205), SUPER DUPLEX STEEL F53 / F55,DUPLEX STEEL 329 / 329L , STAINLESS STEEL 440C ,STAINLESS STEEL 446, STAINLESS STEEL17-4PH (630) 15.5 PH, 17.7 PH, 4122 Etc
PIPE FITTINGS :- BW / SW / SRCD / Forged & Compression type with ferrules such as ELBOWS, TEES, REDUCERS,STUBENDS, FLANGES,UNION,CAPS, NIPPLES,COUPLINGS,ELBOW LETS, WELD0LETS, THREADOLETS, BUSHING, AS PER ASTM A-105, A-182,A-194, A-234, WPB, A-234 WP, A-350, LF, A-403 WP, A-420 WPL, as per dimension ANSI B -36.10, B-36.90, B-16.5, B-16.9, 11 & 16.28 ETC.,
Butt Weld Pipe Fittings:
Butt-weld Seamless & Welded Fittings in shape of Long Radius Elbow, Reducing Elbow,Return Elbow, Straight & Reducing Tee, Crosses, Lap Joint Stub end, Caps,Reducers etc.
Forged Pipe Fittings:
Forged Socket Weld & Screwed Fittings in shape of Elbow, Tee, Union, Cross,Coupling, Half Coupling, Cap, Bush, Plug, Swage Nipple, Welding Boss, Hexagon Nipple, Weldolets, Sockolets, Threadolets, Nipolets, Letrolets, & as peryour drawing.
Tube Fittings : Nipple, Crosses, Adapter, Union Ball Joint, Reducing Bushing, Reducer, Pipe Cap, Coupling, Pipe Plug, Hollow Hex Plug,Elbow, Reducing Union, 90 Deg. Union Elbow, Reducing 90 Deg. Union Elbow, Extender Leg 90 Deg. Union Elbow, 45 Deg. Union Elbow, Union Tee,Female Connector, Male Connector, Manifold Tee, Locator Union, Extended Run Leg Union Tee, Reducing Tee, Tribow, Atw Weld Ring, Tube Socket Weld To Pipe Butt-Weld, Tube Butt- Weld To Tube Socket-Weld, Port Connectors, Caps & Plugs,Vent Protector, Flanges, Chromatograph Fittings, Nuts & Ferrules Etc.
Fasteners: Nuts, Socket Screws, Washers, Bolts, Anchor Fasteners, Wedge Anchor, Eye Bolt, Stud Bolts, Stud, Threaded Rod, Cotter Pin, Fine Fasteners, Spares & Foundation Fasteners in any grade & in any sizeetc.
Flanges : Slip On, Weldneck, Blind, Lapjoint,Spectacle, Socket weld, Threaded, Ring Joint & Oriface in150#,300#,600#,900#,1500#,3000#,6000# & drawing based in any grade or asper you drawing etc.
Size : 15NB to 150NB In
Standards : ASTM B 160 / ASMESB 160
Length : 100 mm To 3000 mm Long & Above
Finish : Bright, Polish & Black
Grade : Nickel Alloy 200 (UNS No. No2200) Round Bars & Rods: 2.4060, 2.4066, Nickel Alloy 201 (UNS No. No2201) Round Bars & Rods: 2.4060, 2.4066
Trade Information
Telegraphic Transfer (T/T) Cash in Advance (CID) Cheque Cash Advance (CA)

10 Per Day